Ghana has stated its intention to reduce greenhouse gas emissions by 64 MtCO2e and adapt to climate change through Nationally Determined Contributions (NDCs). To reach this goal, investments ranging from $9.3 billion to $15.5 billion are needed to implement the 47 NDCs measures from 2020 to 2030.
Ghana's agriculture, energy, and water sectors, like those of most other countries, are heavily reliant on climate-sensitive variables such as rainfall, soil, and hydroelectric power. As a result, it is not surprising that Ghana seeks to close various climate-related gaps through its NDCs.
But how does a project that looks so good on paper become a reality in the lives of a country's citizens?
Green Africa Youth Organization (GAYO) and the Youth Climate Council Ghana (YCC) advocate for two solutions: intergenerational dialogue and collaboration. This was demonstrated at the Local Conference of Youth on Climate Change (LCOY), which took place in Ghana on October 25th, 2023.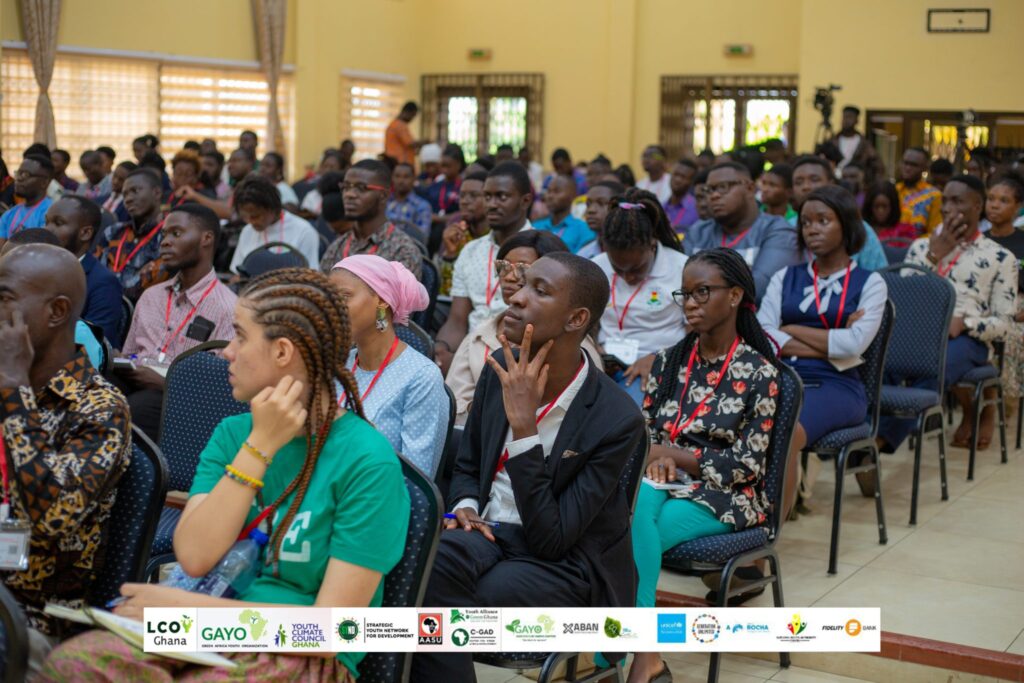 The event drew over 300 young people from Ghana, representing various youth organizations, governmental and educational institutions, and the private sector, under the theme "Accelerating Youth-Led Climate Actions for A Sustainable Future."
The conference aimed to deepen understanding of the climate emergency and mobilize political and economic efforts at the highest levels to advance climate action that will enable Ghana's NDCs to be implemented, as well as to provide a platform for government, business, youth climate groups, and other relevant stakeholders to collaborate, share experiences, and improve their knowledge and skills on climate change issues.
Furthermore, the conference highlighted innovative youth-led climate change solutions in order to promote youth-led entrepreneurship and innovation for long-term development. The National Youth Climate Action Plan was eventually launched. This plan will guide the National Youth Climate Statement's implementation.
Candy Darkwa, GAYO's partnership and engagement officer, stressed the importance of youth being actively engaged in the fight against climate change in her welcome address. She stated that not only are young people disproportionately affected by the effects of climate change, but they will also inherit the planet and its problems.
Hon. Pius Enam Hadzide, CEO of the National Youth Authority, delivered the keynote address at the conference (NYA). Hon Hadzide pledged the NYA's support for youth-led climate solutions in his speech. He revealed that the NYA is developing a number of programs and initiatives to assist young people in developing the skills and knowledge required to become effective climate change leaders.
Hon. Yves Hanson-Nortey, a Member of Parliament and a member of the Parliamentary Select Committee on Environment, Science, and Technology, delivered a special address. Hon. Hanson-Nortey emphasized the importance of intergenerational dialogue in addressing the climate crisis and urged participants not to lose touch with older generations. He explained that the link allows them to learn from their experiences and form a united front to combat climate change.
The National Youth Climate Action Plan
The launch of the National Youth Climate Action Plan was one of the conference's major highlights (NYCAP). The NYCAP is a five-year action plan that outlines youth-led projects focused on Climate Change, Energy, Water, Sanitation and Hygiene (WASH), Biodiversity, and Agriculture and Food Systems. When implemented, this would enable young people in Ghana to scale up actions to combat climate change. The NYCAP also aims to serve as a model for pursuing climate action while being closely integrated into the country's national development objectives and various national policies, ensuring a comprehensive approach to sustainability.
The conference concluded with a technical dialogue involving experts from academia, government, and the private sector on youth-driven action for Ghana's climate goals. The dialogue highlighted, among other things, the urgent need for the government and private sector to invest in youth-led climate initiatives, the need for educational institutions to incorporate climate change education into their curricula, and the need for young people to be given more access to power, ensuring increased participation in climate change decision-making processes.
The conference included three side events in which other youth-led organizations were given a platform to host sessions showcasing youth solutions and innovations to address the negative effects of climate change in Ghana. The side events involved and empowered young people in climate innovation and impact scaling. The conference was also notable for its inclusion of primary school children, who took part in all high-level discussions and were very active during the Q&A sessions. GAYO, YCC, and other youth-led organizations believe that engaging and teaching young people about climate justice and crises, as well as how to be environmentally responsible, will contribute to the development of active environmental and climate activists.
The conference was well-attended, thanks to partners such as UNICEF Ghana and Generation Unlimited, Fidelity Bank, A Rocha Ghana, and the Strategic Youth Network for Development (SYND).
We must remember that addressing the climate crisis requires a collaborative and inclusive approach. At this critical juncture, meaningful collaboration among all stakeholders, as well as reform of national policies to support on-the-ground climate action through empowerment and overall readiness, is critical. By fostering intergenerational and intragenerational connections, we can leverage synergies that will positively shape our collective future.
Other GCNews